About
WE LOVE WHAT WE DO
IT'S SIMPLY OUR PASSION
We are a creative agency located in Benoni, Gauteng.
About StudioBotics
StudioBotics is a group of talented individuals who work together by fusing information technology, design disciplines and business solutions together. Our services are not just targeted at organisations, but individuals, startups and various other groups as well. While we boast a skillful team, we ensure continuous training and development in accordance to latest and upcoming trends. We are a 100% confident that the services we provide are of high excellency to meet absolute client satisfaction.
Our Vision
Our vision at StudioBotics is to provide a wide spectrum of design and IT related solutions all under one roof. We aim to continuously add value to all our clientele so that they can  reach the blue-chip levels which we'd love them to reach. We strongly believe that we only truly grow, by growing others!
Meet the Team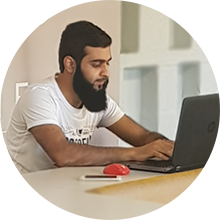 Mohamed Hoorzook
Director
Being driven by passion and having acquired a degree in the I.T field, Mohammed Hoorzook at the age of 24 founded StudioBotics. With the energy his team boasts, alongside his expertise, he aspires to make the world a better place.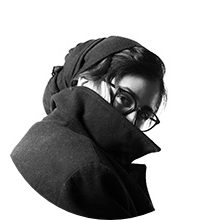 Nuraan Khan
Partner
Nuraan is a qualified interior designer and partner at StudioBotics. She is in constant pursuit of knowledge about all things she finds most interesting in the world and aims to alter the way people perceive and interact with design. As with most creatives, she thrives on individuality.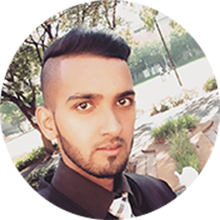 Riaz Karolia
Senior Web Developer
Riaz is a certified Full-Stack Web Developer who also holds a Bachelor's degree in Construction Studies along with an Honour's degree in Quantity Surveying. But instead of pursuing a career with his degree, he made a career transition into the exciting & challenging world of Web Development.
The epitome of the term, 'a safe pair of hands', Riaz works directly with clients to turn their ideas into beautiful, functional websites.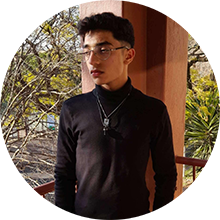 Mohammed Akeil Hussain
Web Designer
Mohammed Akeil is a Grade 10 student who is having a great learning experience at StudioBotics. He now boasts an array of technical capabilities in the computing space. He understands the computer from a hardware and software level. Akeil has now completed several website projects and is currently aspiring to further his development skills. He is spending his time experiencing different technological avenues so he can make a decisive choice when choosing his career path. With his integrity he tends to make the world a better place.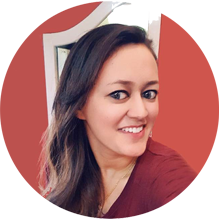 Misba Khan
Graphic Designer
Misba, an aspiring designer with an undergraduate degree in architecture and currently working as a part-time graphic designer for StudioBotics. She has keen interests in good art, nature, photography and everything relating to the the world of design. With passion and ambition in her heart and the will-power to work hard to achieve the best results, she aims to help you achieve all your design dreams!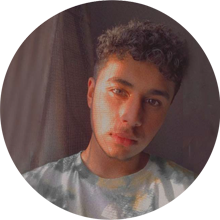 Hamza Bhoja
Web Designer
Motivated by his tagline "Passion, dedication and lots of coffee," He has worked hard to gain web design skills and establish communication skills to deliver to the best of his ability. Previous work experience has etched a passion for customer service enabling him to deal with a wide range of clients. With an eagerness to learn, he enjoys overcoming challenges and has a genuine interest in growing with the company.
"I genuinely cannot explain how awesome these guys made my website look. Like wow! I am inspired by their young team and the speed they took to develop my website. I was afraid that the admin panel would be difficult to use, but it turned out to be such a breeze! On top of it, they added Google Ads!"
— Nabeela (Manager – Crystal Math)
About